If a Hooah was ever appropriate, now is the time. It's been more than a year since the U.S. Coast Guard Training Center Cape May suspended family attendance graduation events at Cape May, NJ to stop the spread of COVID-19. The following is from the official Coast Guard FORCECOM page.
As a result of our vaccine and mitigation efforts, starting June 4, 2021, recruit graduation ceremonies will be re-opened to limited guests and recruits will be permitted to invite 3 people to attend their graduation ceremony. If a guest arrives and they are not on the list, they will not be allowed to attend graduation. Recruits will confirm their guests' attendance on graduation week.
Our main gate will open to authorized graduation guests at 9 a.m. Upon arriving at the front gate, all guests must present a valid form of state or federal identification in order to gain access to the training center. All drivers must possess a valid driver's license.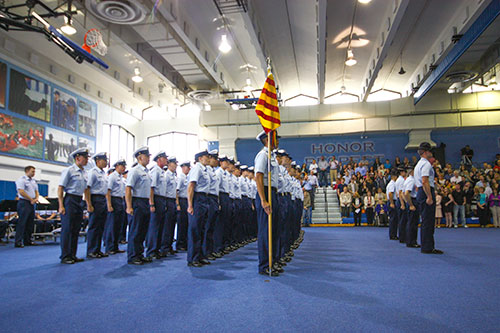 At this time, we are not holding a family dinner, breakfast, or any other associated graduation events.
Firearms, weapons, and illicit controlled substances, including marijuana, are not permitted on base. Do not have them in your vehicle when you approach the front gate to enter the base.
Graduation is a formal military ceremony and will begin promptly at 11 a.m. in the gymnasium or on the parade field, as weather permits. The ceremony will last for about 45 minutes. After the ceremony is concluded, recruits are free to depart. If you are unable to attend the ceremony, your recruit will be provided travel arrangements to execute their orders for authorized leave and reporting to their first units.
Our Exchange will be open to visitors from 9 a.m. to 5 p.m. for authorized guests and graduates to purchase Coast Guard items or by visiting www.shopcgx.com.
Please continue to check this official FORCECOM webpage and our U.S. Coast Guard Training Center Cape May (Official) social media page for updated information, as they are the only official sources of information from the Training Center.
Booking your travel to Coast Guard Graduation
As airlines increase their passenger loads, fares will be on the rise. Families and friends need to book their flight, hotel, and car to graduation now. Our team of military travel agents will ensure you can cancel or change your reservations based on the fluidity of Coast Guard updates on graduation.
Our certified military travel agents will make sure you can:
Cancel your hotel reservation without a fee
Avoid paying 'change or re-booking fees
Cancel your car reservation without a fee
Qualify for a 100% refund on your airline ticket
Book now with no obligation and have peace of mind. Our agents will have your back!
---
---
---
Categories: Coast Guard, Recruit Training