There's a reason the military puts such a heavy emphasis on basic housekeeping with their soldiers. Essentially, it's to drill discipline and objective completion. Ensuring you have a tidy bed first thing in the morning is about having control over your life, and gets the momentum going for a day filled with tasks to finish by knocking one out straight off the bat.
Life coaches and motivational speakers have since adopted this whole make your bed first thing in the morning for a fulfilling day mantra. Because in the words of US Navy Admiral William McRaven, even if you don't have a productive or positive day, at least you'll be able to come home to a nicely made bed. 
Here's how you can make your bed like a Navy SEAL:
Take the top sheet and place it over the bottom sheet. With the wide seam at head, make it even with the top of the mattress.
Tuck it under at the foot.
Lay the blanket on the top. Leave six inches between the top edge of the blanket and the sheet.
Fold it under the same way as a the sheet.
Stretch the blanket to the inner edge of the seam.
Fold the seam over the blanket.
Now, fold both the blanket and the sheet over approximately four inches.
Fold it over again, leaving eighteen inches between the fold to the head of the mattress.
Fold the corners the same as the sheets.
Grab the sheet, cover and fold both completely under the mattress.
And in the case that seems too confusing the first time round (which admittedly, it is), here's a diagram to make things a little easier. You'll be making your bed under a minute flat in no time.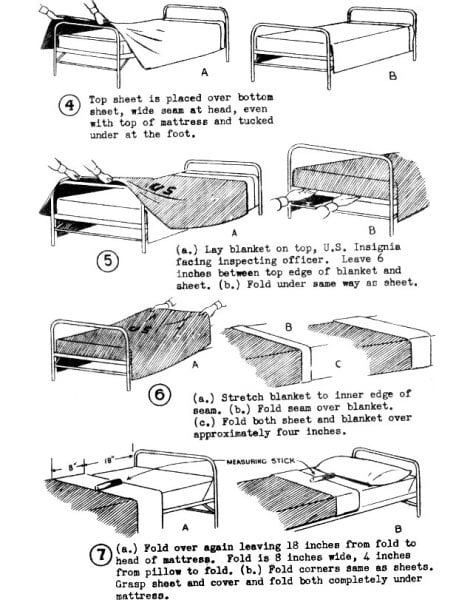 Adopted from GARRY LU article, Boss Hunting
---
---
Categories: Navy, Recruit Training